The 1800 cc Taxi Engine:
If you want more power from your VA you can choose for the sturdier "taxi engine". Looks similar to a VA engine, stronger casting and lighter in weight. It was fitted to the Oxford Taxicab. The flywheel housing and the water elbows on the head are from aluminium. The porting of the waterways in the head is different to a VA with which it does not share the headgasket. Waterpump is a stronger unit with double bearings.
Approximately 1800 Oxfords were built from 1947-1955 based on a 1940 prototype, which accumulated 100,000 miles during wartime service. Built at the Wolseley factory in Birmingham, the Oxford was the first new cab to be offered on the London market after WWII. It was powered by a 1.8 litre dry-sump industrial engine, derived from a contemporary MG unit. Three successive models were introduced: the MkI, the 1949 MkII with a six-light body and the 1950 MKIII, distinguished by its pressed steel wheels, instead of the artillery wheels of the previous models. When Morris and Austin merged to form the British Motor Corporation in 1952, the new organisation found that it was making two competitive vehicles for the same market, the Oxford and the Austin FX3, so in 1953 the older Oxford was dropped.
BMC B serie engine.
Keith Bush recently made a trial fit of an MG B engine and gearbox + overdrive.
please note steering box in correct position with engine 30 mm out of line but gearbox in a straight line if i wanted to continue the handbrake would have to be moved as this fowls the overdrive unit
but if i was going to contemplate doing this i would think about using a FORD SIERRA engine and 5 speed gearbox the reason is that the starter is the other side of the engine and it uses a down draught carburretor so you would not have to cut the bonnet or move the handbrake.
FORD Sierra alternative.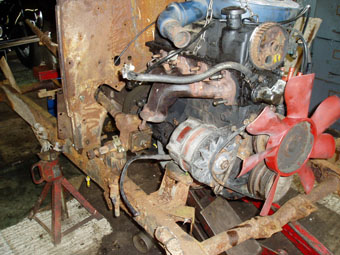 Next to follow will be a Ford Sierra 5 speed box conversion on a genuine VA engine.