About Cylinderheads & Compression Ratio:
From "The Sports Car" November 1938
Question: "Although my MG 1,5 Litre runs exceedingly well, I would like to boost up the performance. A supercharger reduces the mpg far too much, so that it is not possible. However I imagine the compression ratio could be raised somewhat, as at present it is quite impossible to make the engine "pink". Will you give your views on same, please?"
Answer by MG: "We note your desire for an improved performance without supercharger. Unfortunately it is not possible to raise the compression ratio by skimming the cylinder head, as there is insufficient material to allow this to be carried out. In view of the impossibility of removing metal and raising the compression ratio, there is very little one can do to improve the performance this way".
Note:
The castings for a VA, Wolseley and Morris 12 cylinderhead seem to be identical. The only difference may be in the height of the ready machined casting, and looking at the Abingdon Factory info the cylinder head for a VA was already machined so heavily that skimminmg afterwards is a hazerdous action, because there may not be enough material left.
I measured some cylinderheads from the bottemface (where it rests on the head gasket) to the topface (where the gasket for the rocker cover rests).
A cylinder head from a genuine VA engine measures useally 89-90 mm.
Other heads:
A Morris cylinderhead (TPBM engine) = 93 mm
A Wolseley Taxi engine cylinderhead (TPDW-T) = 92,5 mm
A standerd Wolseley cylinderhead (TPBW-3) = 90 mm
All these seem to be the same casting so 89 mm is realistically the limit just as MG says in the above article.
Below pictures show a VA cylinderhead which measured 88 mm and had developped a crack starting from the middle water hole. Lots of coolant escaped via the tappet galery into the sump. Seems proof that going below 89-90 mm weakens the head to much. Remember that the thinner metal has a hard job dealing with the heat and will warp quicker and consequently crack quicker.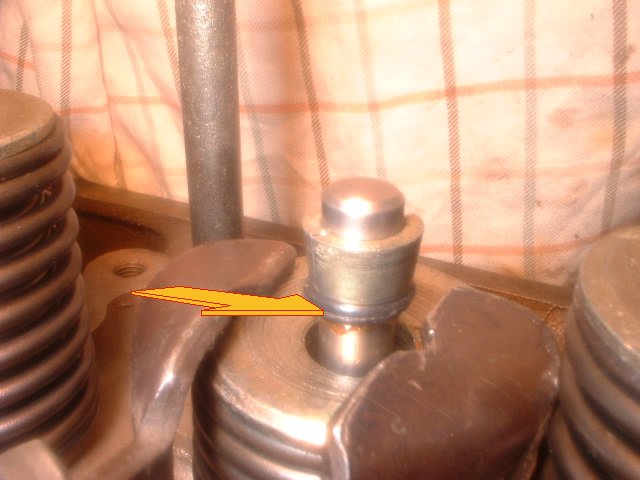 This excellent photo made by Gobby shows a valve cap slightly lowered by a valve spring compression tool and is made to note where the rubber oil seal ring on a VA valve stem is supposed to go.