CFG 532
In August 2005 I received an Email from Ron Billing to enquire about the where abouts of VA saloon registered CFG 532
Unfortunately his VA is not traceable at the moment but his story so good I like to share it:
A favourite car
Whenever I say to people that I once owned an MG VA the usual response is `Oh yes a V8` and then I have to explain that I mean the one and half litre saloon produced prewar. There weren`t very many made in comparison to the T types or the Js or the PAs and PBs. In fact only 2407 saloons, tourers and convertibles were made so they are comparatively rare. The other contemporary models were the 2 litre SA s and the huge 2.6 litre WA.
I bought mine from a dear friend in Findochty who was reluctant to part with it but was progressing to a Healey Tickford. This was in 1958 and Charlie had owned CFG 532 since 1949 and before that it had belonged to the MG factory. I like to think that Cecil Kimber (Mr MG) must have driven it at some time. What a beauty it was, finished in deep maroon and absolutely mint. I was to care for that car better than any I had ever had and I still regard it as one of the best cars I`ve ever owned. The engine, 1544cc, was basically OHV Morris 12 suitably tweaked with twin SU`s giving 54BHP at 4500RPM. The saloon body had no chrome lining and the lines flowed from the lovely helmet style front wings along the running boards and into the rear wings. It was quite high waisted with smallish windows. The front aspect was adorned by the regal MG radiator with P 80 headlamps a single spot light and twin windtone horns. It had a very up to date specification and had many features not seen today:-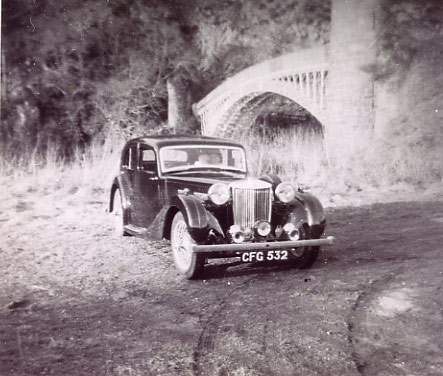 Built in hydraulic jacks , the `Jackall ` system, operated from inside the car. You lifted a little flap in the passenger`s footwell and selected front or back or all and put in a handle and pumped.
Adjustable shock absorbers. These were pressurized from a pump operated by the movement of the back axle so theoretically the rougher the road surface the more the axle moved and so increased the shock absorber pressure. There was an over ride control on the dash as well. A great idea but in fact wasn`t all that effective.
Adjustable steering column, in and out and up and down. The foot pedals could also be adjusted so an ideal seating position was there somewhere.
Oil contents gauge. Rover`s had this as well. Press a little button beside the fuel gauge and the sump contents would show as well.
The `Thirtilite`. I`ve never seen this on any other car. The idea was that you could drive with the instrument lights switched off but still know when you were doing between 25 and 30mph as the little light would show between these speeds.
There was a grouped greasing system to all the spring shackle pins. The pipelines had a reputation for blocking with congealed grease but mine worked OK as Charlie had always used gear oil instead of grease which eliminated the problem.
There was an opening windscreen and sun roof and a rear window blind that was operated by a sliding toggle above the drivers door.
In the braking department torque cables on the front axle prevented axle wind up , a common problem with leaf spring suspension.
CFG532 was as near mint condition as possible given that it had to live in the street and was used everyday. Most weekends saw us off somewhere usually to the West coast. To Applecross over Tornapress was one of our favourites. It was just a delight to drive. Not a lot of performance but the handling and general demeanour of the car was very satisfying.

We took off from Northern Scotland to Cornwall and London one leave. These were pre motorway days and 738 miles took us 19 hours and I have memories of being stuck for ages in traffic in Wolverhampton and Bristol. I took it to Portsmouth when I was on HMS Hermes alongside in the Dockyard, and from there it got some good runs up into Gloucestershire and Wales . As we were going off to foreign lands I took it back up to Scotland and left it in storage in a local garage. About a year later we came back to UK and first thing on the agenda was to get motoring again. Driving from Lossie to Findochty and along the sea front at Portessie a terrible bang and clatter from the engine told me the crankshaft had broken. As I only had a short leave I had no time to fix it or anywhere to keep it so reluctantly sold it for £100.00. Not the happiest day of my life. I never heard any word of it again except a rumour that it had been written off.