Arie van der Hoeve
It must have been around the summer of 1979 that I heard about an old chap that had some interesting cars and who lived at the other side of the village. Already the next day I took my Ford Popular down the the mentioned adress and indeed a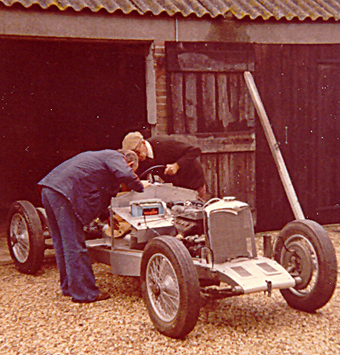 rather old chap was working in front of his wooden garage on some kind of "racing car" . Doors wide open as the wheather was fine.
He quickly came into the sunshine when he saw the old car approach. Pretty soon he began to show his disgust for the old Ford. "Ford did not know how to build a proper car". He finely explained why the steering and braking on these Fords was hopelessly outdated. "Beam frontaxle, transverse springs, cable brakes." Have a look at the car I am building right now" he said and proudly showed me the masterpiece he was creating. It turned out to be a Riley Falcon based special. I was a bit flabbergasted by his expertise on weight distribution and roadholding etc and after admiring his cars and workshop I left sort of frustrated. He was obviously not the fellow to talk to when you happened to drive an old Ford.
When researching the possibility of a local old car gathering two years later in 1981 I duly send Van der Hoeve an invitation, not expecting he would turn up.
Quite to my surprise he came to the meeting, bringing his wife Gers, and driving his just finished Riley Special. They enjoyed the meeting very much and appreciated the idea of becoming part of a local old car club.
The stories he was telling during this meeting about his experience with cars in long forgotten days were a valid reason to arrange another meeting soon. We spend a lot of time together where I was either helping to keep his fleet going or listening to all his happy memories passing by. So it happened that a friendship was born which lasted untill his death in 1994.
He often talked about his visits to motorshows in the 1930-ies. Earls Court were he had the change to testdrive the just released Riley MPH.. Also about the Paris Motorshow were he had watched Ettore Bugatti talking to Nuvolari. He had regular contacts with Gabriel Voisin untill Voisin's death in December 1973.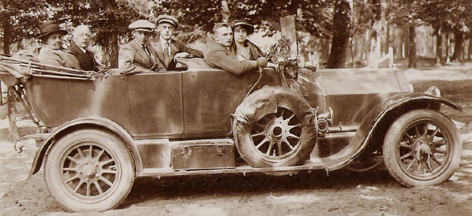 Arie's motoring interest originated definately from his friendship wth the van Asselt family from Heenvliet. He talked about the country trips in the Itala and several other cars Dr Van Asselt owned. As Arie's father was reluctant towards all this modern machinery it was Dr Van Asselt who lend Arie the money to buy his first Harley Davidson.
So Arie's motering career officially started in August 1925 when the personal motor license H-46383 was issued to Arie J. van der Hoeve, then living at Groeneweg in Nieuwenhoorn.
After some hard times on the bad gravel roads in Holland Arie went for four wheels:
Amilcar.
Some more pictures from the family album of Arie van der Hoeve, this time it is an Amilcar again with his wife Gers in the drivers seat. Picture was made in the late twenties at home and at the Scheveningen Boulevard. When Arie had aquired the beast he could not get the speed any higher then 60 km/hour. Around that speed the Amilcar started to shake heavily and just left the road. After some tuning and balancing the drive shaft it could manage a genuine 90 km/hour but helas no brakes to match. Interesting detail is the "Eldridge" radiator cowling. At the lh side of the tail was written "Amilcar Special".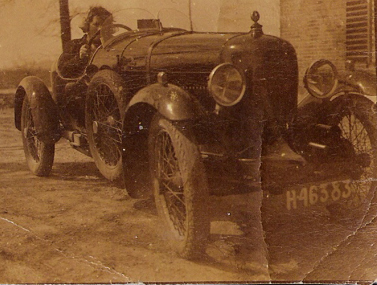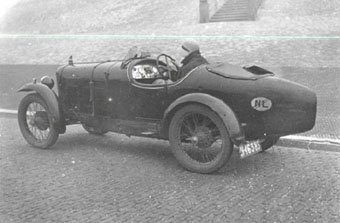 Gers was frequently piloting the Amilcar but always had problems with the brakes. One day when picking up somebody from a Railwaystation it all went wrong. To be able to collect the luggage she thought it to be good practise to drive the car up the platform. Once at the platform the brakes failed and she ran over all the unloaded suitcases almost ending on the railtrack.
One day driving through Arnhem she was waved by a policeman to stop. Again she could not stop and just carried on shouting to the police man: "sorry sir canít stop!!".
Bugatti Type 40
After having had the experience of an Amilcar Arie was bitten by the sportscar bug and he was now due for a quicker car.
It must have been during 1930 that Arie van der Hoeve bought himself this secondhand Bugatti type 40. It has recently come to light that this Type 40 was previously owned by Baron Samuel van VoŽrst van Lynden who had entered this Bug in the 1930 Monte Carlo Rally together with his father's driver Hendrik Wildschut. They had started the Monte from Riga but unfortunately had to retire with a faulty dynamo 400 km before the finish.
One of the first things Arie experienced was the funny roadholding and harsh ride in the type 40. When talking to a fellow Bugattist at the time he was shown how to drive a Bug: as fast as you can. Never use your brakes, just steering and throttle. Indeed was this new approach some sort of a revalation to Arie as the Bugatti was obviously designed to be trown around the place and the ride became much more pleasant. .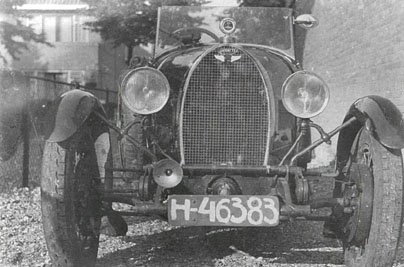 Arie used the Type 40 to travel a lot through Europe, visiting Grand Prix as far as Monaco. It took him 3 days to drive from Holland to Monaco.
Although Arie enjoyed maintaining the Bug himself it was also serviced by Albatros Automobielmaatschappij, from Amsterdam

One day Arie was testing the Bugatti for acceleration in the Delft area. In the passenger seat was Arieís wife Gers, holding a stopwatch. Arie was more interested in the stopwatch in his wifeís hands then the road in front of him. The approching corner was not observed in time and through the fence they went at full speed!
One evening after having enjoyed a lot of wine he bought another Bugatti Type 40 for the pricely sum of 400 Guilders (180 US Dollars) from a friend who was emigrating to France. After sobering up he realised he had spend more money then he actually owned and was very lucky to sell the Bug within a week for the same amount.

Arie's Bugatti has recently been identified by Dick Ploeg as chassis number 40660, engine number 564, delivered new on 25th September 1928 at Dutch Bugatti importer H. Stam from Soestdijk. First owner Baron Samuel van VoŽrst van Lynden who got this Bug from his dad as a present for passing his law studies. Helping in this identification was a photo (see left) published in the book "Liefste, wij zijn op reis - op zoek naar Sam van Voerst van Lynden" door Jacqueline Quarles van Ufford about the war years and disappearing of her granddad, Baron S. van Voerst van Lynden. The book is published by Walburg pers (ISBN 90.5730.364.7).


MG K1 tourer
"WEAK SPOTS"
Arie van der Hoeve always travelled great distances with his cars. He loved the French Alps and it was on one of this trips that on the way home he suddenly lost control of his grey MG.
Going slowly around a corner the K type suddenly lost all its steering. On investigating it showed that the pitman arm on the steering box had broken in two pieces. Eventually a repair could be made by a local blacksmith and the journey home could be safely made.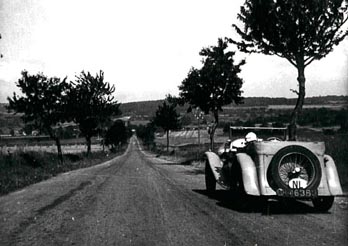 When Arie contacted the MG factory it turned out that the steering set up of a K type was famous for breakages and that it was best to fit a later N type axle.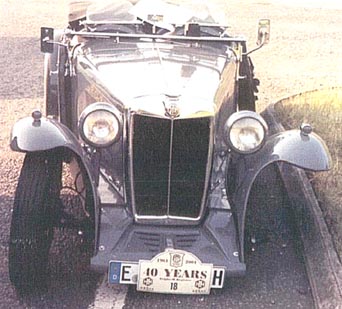 Some years after Arie's death I found out that his MG K1 is still alive and being enjoyed by a chap in Germany.When this current owner visited the Silverstone MG meeting in 2001 he also experienced another weak spot of the K types: he broke a stub axle!! Luckily again nobody was harmed.
It was also after Arie's death that I found these pictures, probably taken at the old MG importer for Holland, Molenaar in Amersfoort.


Lancia Augusta
Attached a picture of the black Lancia Augusta with a Pininfarina Cabrio body of Arie van der Hoeve and his wonderfull wife Gers. Picture was taken on a ferry just before the war in the Dordrecht area.
Arie was very fond of this Lancia and he was always talking about its excellent steering and braking qualities. Also the narrow V4 engine was a magnificent piece of engineering.
During the second world war the Lancia was dismantled and the parts stored away at his brothers farm in Hellevoetsluis. As soon as hostilities had ended the Lancia was assembled again and enjoyed well into the 1950ís.
Arie was at one time a keen fencer and even Dutch Champion of this noble sport. This was reason for much travelling with the Lancia through Europe en route to several fencing championhips. During one winter in the early fifties he had to face a severe frost. To keep his family warm he had a household parrafinheater in the back of the car. Despite this all windows kept freezing up and the journey had to be ended.
Now Arie's Modern cars:
After parting with the Lancia Augusta I believe he had a serie of VW beetles out of sheer practicality. During his working years as chairman of the Patent Office in The hague there was no time nor opportunity to be involved in Sports Cars.
It was during his retirement that he found there was time again. Not only his meories of the good old days came back. He moved house. Back to the village where he was born on a nice peace of land, a house and a shed, needed for his new adventures.
First adventure was an MG A which he did not keep for long. Too heavy for its power was Arie's verdict.
The Lancia Appia Arila.
Soon the idea was born to build the ultimate car. It should be very light, have a near perfect roadholding and a sensible engine. As he was still impressed with the experiences he had with the Lancia Augusta it was thought to be a good idea to base his ideal car around Lancia components. As Appia's could still be found at reasonable prices and the engine and other mechanics were still very much like the old Augusta it seemed a right decision.
The body was carefully designed with the lowest possible point of gravity. As happened before in motoring history: construction of the body was started in the warmth of the house untill the whole contraption became almost to big to move outdoors. Solution was found in the building of a new shed to house the new born car.
Front axle was lancia Appia again with its sliding pillar suspension, rear axle Appia as well but redesigned to carry coil springs. Engine was the famous Lightweight V4.
The Lancia based special was sold to a friend in Rotterdam and its future was unclear. Some years later while driving through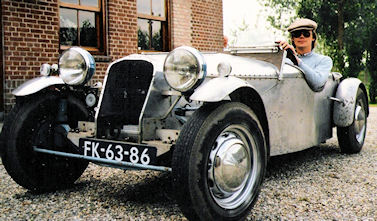 Rotterdam I came accross the beast, found the rightfull owner and agreed a price. Took it home and did not tell Arie untill I had it up and running. Now it was time to surprise the old man. Went to his home and told him I had just bought another car he should have a look at. I never forget the expression on his face when he walked into my garage.
Not so long ago the ARILA has surfaced again and is now again in the hands of a loving Lancia collector who values this special for what it is.
The Riley Special
After a thorough investigation of what was available on the market of suitable donor cars Arie decided that it should be Riley based. A 1934 Falcon in derelict state was located in England and duly shipped to Holland in the summer of 1974.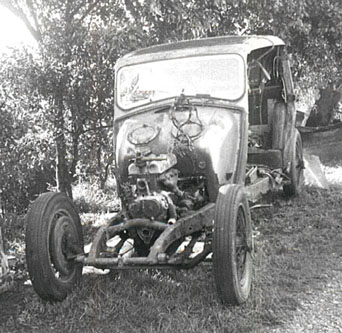 The derelict Riley Falcon
After dismantling of the saloon body measuring the remaining chassis could take place and a plan made for what it should look like. Ofcourse a carefull study of existing sports Riley's was made as well.
The chassis with all overhauled mechanics fitted
Arie had still the 1934 test drive with the MPH in mind and the Brooklands Riley was also found most impressive but the chassis needed to be underslung for that. Also the wheelbase needed to be a bit shorter. This would mean altering some basic dimensions which could create problems with the officials again at a later stage when applying for a registration with the officials in Holland.
Taking shape
Arie decided he would not alter the basic chassis dimensions. But he did move the engine well back and fitted it much lower then standard for a much beter weight distribution. Seating position was extremely low. Also the frontaxle was replaced by a wider type as well as much lower and flatter springs all round, combinig this with telescopic Koni shockabsorbers. He also put in a higher back axle ratio. Altered the steering ratio by shortening the pitman arm and moved the steering box backward. Engine and pre selector gearbox were thoroughly overhauled with the help of his many friends. The body became the lightest possible aluminium construction, nicknamed by friends: Arie's Meccano set. A Nivex fuel gauge from one of Arie's previous Bugatti's graced the dashboard. Brakes were converted to hydraulic.
The finished special ready for its first inspection by
the Ministry of Tronsport
Although never meant to be a racing car the Riley turned out to have a Lotus Seven like roadholding. And with the preselector gearbox in good order it turned out to be quick as well. Specially when later in its life the single Zenith carburettor was replaced by twin 1 1/2 inch SU carburettors.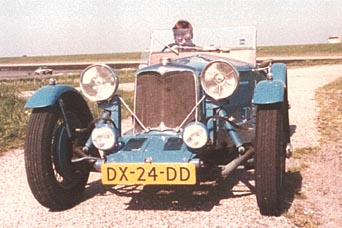 For a better appearance and to match the very low design of the body, the original Riley grille was lowered and narrowed
I had the honour of being the next owner from 1983 untill 1996, putting back on the original Falcon headlights, different trafficators, also modifying the carbs to twin SU 1 1/2 inch's.
At traffic lights first gear could be engaged and second preselected. Once the light was green all you had to do was press the accelerator and slightly flick the gearchange pedal to go to the pre selected second gear and the old Riley just left the other traffic behind in amazement.

After changing hands several times and sporting another body again it still has all the characteristics of Arie's Dreams
(photo Jim lensveld)