Austin Seven
Gordon England Brooklands Super Sport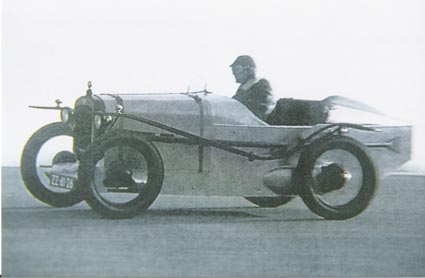 Gordon England was an aviation pioneer who had a bad accident preventing him from flying. His next venture was racing motorcars, ABC's at first and later Austin Sevens. He was also succesful as a bodybuilder.

This impressive list of records was enough promotion for Austin to start marketing a Gordon England bodied version of their reknown Seven model. Cost when new GBP 265 but that was including a certificate that it could manage 75 miles in 1 hour at the Brooklands track.
Unfortunately there are no genuine Gordon England Brooklands models left apart from one genuine chassis which has been rebodied at a later stage.
Based on comtempory photographs and drawings Scotchman Tom Abernathy created a very good replika of a Brooklands Super Sport. The body of this replika was so well made that there was demand for another nine, which Tom gladly produced.
Fate brought a kit of parts in my garage back in 1991.

It compromised of an approximately 1934 long wheel base chassis, a Tom Abernathy build Gordon England Brooklands Super Sport replika body as well as a collection of engine & gearbox bits.
The body was already fully panelled and included al the shrouds and wings as well.

First thing to do was pay a visit to Tom to see how his "original" replika had been constructed and to make a lot of pictures of the finished machine. It was ofcourse also an opportunity to make a lot of measurements and drawings.
Next was preparation of the chassis. Had to be shortened but how much ? Did some measuring at other short chassis and came to the conclusion that the distance from the front of a chassis beam to the centre of the rear spring bolt should be 126,6 cm. The brake cross shaft and both cross members had to come off. The middle cross member was replaced by a newly made one according the early short wheelbase chassis specification and narrowed so much that it would fit inside the body.



Some of the Abernathy drawings.
Also the rear shockabsorber mounts were copied as much as possible from the early model. I fitted an early uncoupled brake cross shaft including an early handbrake, all supplied by Tony Leslie.
Next job was overhauling both axles which was not a big job for the straight beam front axle. New kings and bushes, new wheelbearings etc. The rear axle had to be made narrower to comply with the early specifications. I took out an inch of each side tube either side of the differential and also shortened the half shafts. I left in the Ruby gearing which is relative high to combine with 19 inch wheels but as a lot of weight was saved that turned out very well.
Brake drums were left as the late cast iron ones all round for maximum brake performance. I fitted a full set of used early road springs from the Beaulieu Autojumble.
Next job was to fit the body to the chassis using the special fixing brackets supplied by Tom and which fit in between the chassis cross members and the body. The back axle could only be fitted after that the body was firmly attached to the chassis.

Now that the Seven could be placed on its wheels the moment came to find the ideal steering column position to find out what sort of a wedge had to be created to make the right angle. The wedge was made out of steel and welded to the chassis to form a rigid platform to fix the steering box to. Steering wheel had to be a deep dished one and was home made from newly casted bits made by Mick Kirkland. The column itself was an original early short one also found at an autojumble.
Now the scuttle area was in need of some atention with a support to be constructed to support the replika fuel tank from E.J. Assciates as well as a replika early accelerator pedal shaft (Tony Lesly). Support frame made from stock metal bars and according Tom's drawings.
Now what about the engine ? I managed to locate a magneto engine which had been driving a sawmill untill 1990 and still in running condition. Ofcourse this terribly worn engine was taken apart and inspected. A slightly fatter then standard crankshaft (1 - 5/16 inch) was put in according the article in "Austin Seven Companion" including a 1930-32 flywheel. New roller bearings, pistons,camshaft ground, conrods re-metalled etc. Special tools to handle the bearings were grafted and Suze's kitchen oven came in handy to heat up the crankcase.
Cylinderblock was replaced by a block which had been serving on a Speedex engine and probably raced severely. All ports of this block were already opened up and smoothed as much as possible. Largest possible inlet valves were fitted. Rebored, new pistons and the cam followers ground according the advices from Bill Williams. A high capacity oil pump (by Tony Lesly) fitted to increase the oilflow. A large capacity steel deep ribbed sump was found at Beaulieu.

A late Ruby high compression head graced the top. A new aluminium inletmanifold by Alen Reaburn was fitted to take a modern Austin Seven SU carburettor. A proper exhaust could not be ready found to my standards so I ventured into making my own. Completely according Tom's drawings and out of 1-7/8 inch tubing. The thick metal plate holding the exhaust to to the engineblock was taken of an old sports exhaust found at an autojumble. It took almost 30 hours to complete but to my fullest satisfaction. It included a (homemade again) fishtail to exact Brooklands specification. XXXXXXspecxx

The magneto was replaced by a magneto/coil conversion as per old pattern and made by Willy McKenzie to take a Ruby distributor. Also a wide racing type oil filler ("Eversure") from Dave Dye fitted. Radiator

was made by modifying the Ruby one I had. Top tank altered and a self turned filler neck in the middle of the toptank. radiator cowling was an original steel one found at Beualieu, just as the 19 inch wheels which put me back another 60 GBP but they came including useable tyres still holding some pre war air!
Proper headlights were found but at two different stalls and also a correct set of side lights. Locating a restorable dynamo was a hell of a job but in the end I found the right one.
A lot of time was consumed in creating the wing stays and aligning the wings.the correct lining of the bonnet and the front apron.

A Lucas switch board and an oil pressure gauge from an old Ferguson tractor graced the dashboard. Limited budgets at that time prevented me from aquiring a proper early revcounter set up.
Upholstery was made by a local craftsman and not a terribly difficult job. Cushion were left loose and the seat backs on the 9 inch staggered seats were attached with turnbuckles.

I was very exited when the day came to fire up for the first time, Checked for fuel in the carb first and also checked if a spark was appearing at the plugs. To my surprise this mighty machine roared into life at the first go on the startbutton. Actually a bit too exited as the engine started racing straight away as the throttle was a wee bit too far open at first.

At idle speed the exhaust was quite silent despite the lacking of a silencer. More surprise even when the little racing car was tested on the road for the first time. Roadholding, steering and even braking were all far better then expected. Only drawback was the heat developing in the interior on a hot day.
On the weighbridge the finished vehicle including a full fueltank weighed 440 Kilograms.

When finished the car was christened Mayflower, the name of the pub where I spend all nights searching the Beaulieu Autojmble to complete this project.
Essential reading: "The Austin Seven Manual" by Doug Woodrow, "Austin Seven Companion" from the 750 Motor Club Ltd, and "Austin Seven" by L.M.(Bill) Williams.

To be honest I have never tried it @ Brooklands but according the current owner he could easily beat a genuine Ulster at a hillclimb !

The Brooklands at the Haldenhof Hillclimb in 2005
Tom made his last Super Sport around 1998 after which he sold the jigs and patterns to Roach Engineering. This company occasionally builds some examples if they have an order in for 4 or 5.
You can see many original Gordon England photos at the website of Austin Harris.