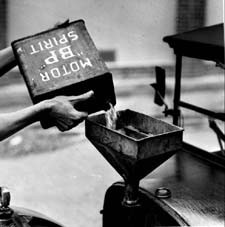 <![if !vml]>
<![endif]>
Collecting petrol cans started in 1972 when I was helping somebody clearing his garage and found this old Racing Shell tin. As I showed interest he gave it to me. These Racing cans now fetch more then 300 GBP on Ebay !
I only realised that there were different sized Continental Petrol Cans when somebody in Holland during a parade noted my Shell Motor Spirit can on the running board of my Model T Ford. He gave me a couple of old petrol cans from his shed.
Only when I placed these newly acquired cans in between the collected British cans I noticed that the new cans were actually higher then the British cans: 10 Litres instead of 2 Gallons. A good reason to start studying Petrol Cans.

It is hard to imagine these days but there has been a time that kerb side petrol pumps still had to be invented. An empty tank could present a problem and end a journey unplanned. We are now talking about the earliest days of motoring in Holland around 1897.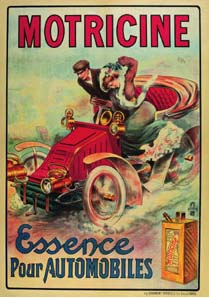 Mr Aertnijs, the second recorded car owner in Holland has in 1948 written a book about his earliest motoring experiences titled "Hoe de auto in Nederland kwam". Restocking for petrol was one of his biggest problems.
He had collected his Benz personally from Mannheim and driven it al the way to Nijmegen, Holland. The Benz factory supplied a mechanic to accompany Aertnijs on this pioneer tour. Enough petrol for the journey home was taken from the factory but once home the required liquid seemed unobtainable.
Finally at a large chemist he located a green whickered bottle containing petrol. It was rather expensive and of a doubtful quality. In the end Aertnijs decided to order his future fuel at the supplier of Benz, Korff from Bremen. The tins of fuel were delivered at Aertnijs's home address.
The book "Het ABC van den Automobilist" issued by the ANWB around 1906 gives a clear description of how to recognise good petrol:
"Petrol needs to be examined by how it looks, feels and smells and with a gravity meter. Good petrol has a soft rather then a sharp smell. It should feel cold. When you drop some on your hand it should evaporate at once and leave a cold feeling. It should look as clear as water and on the gravity meter (densimeter) it should show in between 680 and 700, 710 at the highest. This of course depends also on the ambient temperature and ideally it should be checked at 15 degrees Celsius."
Gravity Meter.
The first motorists in England experienced the same troubles in locating proper fuel. A gentleman from Brighton collecting his newly imported motorcar from Dover docks noticed the petrol tank was empty. Armed with a gravity meter he searched all Dover chemists in search for suitable fuel. White spirit, whiskey, chloroform and even beer were advised but all failed the gravity meter test. Finally it was brought to his attention that Carless, Capel & Leonard could supply the right fuel. He travelled up there by train to collect a couple of two gallon cans of Petrol. That Petrol, which exactly measured 680 at the gravity test, was quickly put into the car's tank and he could travel home in Brighton.
The story continuous that on every future trip he had to do some careful planning and either take plenty of Petrol with him or contact Chemists en route to make sure they had sufficient stock of the right petrol.
Nederlandsche Automobiel Club (Dutch Car Club)
And in fact it went like this for all early motorists. How long that uncertain situation lasted is hard to tell. What can be established is that the in 1898 founded Nederlandsche Automobiel Club (N.A.C.) the later KNAC (later to become Royal Dutch Car Club) in 1900 had a network of 35 fuel depots in Holland. One year later the network had grown to 65 depots. What make of Petrol was sold is not known.
According an announcement to depots in 1904 they were supplying petrol in cans of ten litres. The petrol was then delivered through E. Suermondt en Zoonen & Cie from Rotterdam and came from the Royal Dutch Petroleum Company (later to become Shell). It was so called Sumatraanse Benzine traded under the brand "Autoline" and which name is embossed into the cans. The cans are painted green. Price of this petrol for N.A.C. members is 15 cents per litre and the deposit for the cans is 90 cents.
Why a can was sized for ten litres is not known but we do know where the English size of two gallons originates from. Through a change to the Locomotives on the Highways Act of 1896 it became law that containers for the storage of petrol should not be bigger then two gallons. It was also regulated that in contrary to laws in Holland you could store 30 two gallon cans in one room without further permits. Photo of a truck dellivering Autoline cans to a petrol depot.
'De Automaat'
Also the ANWB is from 1904 appointing fuel depot holders to satisfy the growing number of motorists amongst their members.
In 1905 a company named Schilperoort van Ypen & Co from Rotterdam advertises with excellent Petrol with a guaranteed (weight). It is delivered at your doorstep by a delivery service.
When around 1905 the total amount of cars and motorbikes in Holland has grown to a couple of thousand a new provider is entering the Dutch market. The Rotterdam based American Petroleum Company (A.P.C.) later emerging into ESSO starts selling Petrol. APC already had a massive share of the Household Kerosene market through their extensive network of pedlars through their trading company "de Automaat" . It was this existing Kerosene network that was used to create many more Petrol depots.
The Petrol was also traded in sealed 10 litre tins and if required delivered at your doorstep. Cans were painted red and the trade name of the Petrol was: "Motor Spirit". They were quick in offering a voucher system through which you could get Petrol at any of their 450 depots which was invoiced to you once a month.
NAC Yearbook leads the way.
The NAC Yearbook of 1906 lits per city where to find their petrol depots. They are often Hotels, Cycle shops, Blacksmiths but also chemists. Its also noted if they are open on Sundays or at nights.
With the Yearbook at hand you can safely plan a journey without lacking petrol. Like the Guide Michelin they state per depot what make of petrol is being sold. S stands for petrol of Van Suermondt en Zoonen & Cie uit Rotterdam (Royal Dutch Petr Comp.) A stands for petrol delivered by the American Petroleum Company APC.
Transport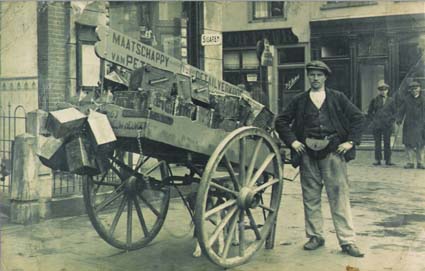 Transport of canned petrol was usually by rail and by boat through Holland's extensive river and canal system. From the stations and the harbours the crates with 6 or 12 tins were transported by horse and cart later with small trucks. From that moment on supply of petrol was well organised and no longer a problem.
Petrol depots in Holland had to apply for a local license before they could even think of selling petrol.
Some smaller traders were less worried:
"When it appeared that Jaap Dekker from Oudenhoorn kept a stock of Petrol cans in his cycle shop some villagers became a bit worried. Rumours became so strong that the local constabulary together with the village Meir went down to see for themselves. Jaap Dekker was in for a joke and filled some of his petrol cans with water. When the policeman and he Meir arrived at his shop to investigate Jaap threw a burning match into one of the (water filled) cans but both the policeman and the Meir who were unaware of the water ran off in despair.
Texaco
Despite the fact that the Petrol market in Holland was already completely ruled by Shell (Autoline) and Esso (Motorspirit, Automaat, Standard) a new supplier emerges in the spring of 1921. Texaco which sells already kerosene here from 1911 starts selling petrol as well. From a Texaco report of 1929 it seems that even then the less profitable areas are still being supplied with canned petrol. Several depots are then still equipped with petrol can filling machines.
Kerbside petrol pumps with an underground storage tank are in 1929 still regarded as fairly new invention although everybody admits that its much more comfortable then carrying full petrol cans.
For the depots it was not only a matter of filling the empty cans once returned but the cans also needed testing for leaks and were often repainted too.
That cans were regularly painted and updated colour wise is shown by an Autoline can I have which started lfe as a green can but was painted red when Shell marketing took over.
From the 1929 Texaco report we can also learn that at that moment there were apart from Shell and Esso also companies like Union Petroleum Company (Sinclair) and Purfina operating on the Dutch market.
The rest of Europe
In France petrol was apart from 10 litre cans also traded in 5 and 2 litre cans, but most French cans measured 5 litres. The oldest and most common makes were: Stelline, Moto-Naphta (later Shell) and Automobiline, but also Gazo Moteur, Stellane, Nobex, Motricine, BP and Toneline.
Italy had useally large 20 litre cans for petrol with makes like AGIP, Lampo (Standard Oil), Shell and Baku.
In Germany its was useally Dapolin (Standard Oil) Leuna or Dea
Belgium had makes like Motocarline (Standard Oil), Union Petroleum Comp [Sinco], Deco Anvers, Atlantic Gasoline, Sinclair, Texaco, Belgian Benzin Company [a Shell daughter, using Motogazoline as brandname] but there is still a lot to discover.
England had so many different petrol brands that it is next to impossible to mention them all.
It is not unlikely that in the earliest beginnings of motoring in Holland the two oldest French petrol makes Stelline and Moto-Naphta were also traded here. Both fuels were literally mentioned in the book Het ABC van den Automobilist. This could be caused by the fact that this book was a translation from a French book but it is also a fact that there were intensive contacts in between some Dutch traders and the French industry. It should in this light also be mentioned that Baron Etienne van Zuylen van Nijevelt was not only honourable chairman of the NAC but also co-founder of the Automobile Club France (A.C.F.) The sculpture on the left can be found on the old club building of the A.C.F. in Paris. (photo Rutger Booij)
End of the canned fuel era.
It seems that the canned petrol period ended around WW2. In England you could still get canned fuel in the nineteen fifties. Even today Carless is still supplying special racing fuel in 20 litre cans.
If the surviving cans are a measure for volume in the past then it is for Holland clear that Shell was number one with Esso following close behind. Tins of any other make are a rarity in Holland.
In Europe most cans were produced by de Dutch Van Leer's vaten fabriek (taken over by Greiff) and the Belgian Standard Drum and barrel Company which was taken over by Van Leer in 1934. A.P.C. also had their own can factory in Rotterdam Charlois.
In England most two gallon cans were produced by Valor. Other producers were Reads of Liverpool, Feaver & Comp. en Grant both from Londen.
Nowadays petrol cans are really collectors items. In Holland there is not such a variety to be found. At the most you can realise 10 or 12 different variations. Situation in England is obviously different where you can find 350 to 400 different cans.
Caps, seals and filllers.
Fuel cans are usually fitted with a brass screw cap on a brass thread. This of course to prevent sparking. In later years
this cap is sometimes from mazac. After filling the caps were always sealed. In contempory adverts it is always mentioned that you should refuse cans with a broken seal. Only a properly sealed can was a guarantee that nobody had tampered with its contents.
To be able to open/close the caps more easily special handles were supplied.
Also available were all sorts of fillers which you could screw onto the caps thread to make it easier to get the cans contents into your tank. A well known filler was made by Liquall which would fit most cans and which had also a build in filter and a special adapter with which you could open a can's cap.
Also the first "aviateurs" had to rely on canned petrol. The photo on the left shows Vendrines filling his plane with Automobiline during the Paris-Madrid race in May 1911
Motorspirit cans were so popular in England that they were even available as souvenirs.
Acknowledgments:
Het beeld van de Auto, Fons Alkemade, Kluwer Voertuigtechniek 1996 ISBN 90 201 2964 3 NUGI 834
Petroleum Collectables, Mike Berry, Shire Publications 2004 ISBN 0 7478 0595 4
Het ABC van den Automobilist, Henri Meijer, ANWB 1906
Hoe de auto in ons land kwam, M.W.Aertnijs, C. Hafkamp 1948
100 Jaar KNAC, Fons Alkemade ISBN 90-215-3187-9
Your Starter For Ten, Mike Moody 1999.
Esso Archive.
Texaco Archive
BP archive
Guide Michelin 1900
ANWB archive
KNAC archive
Greif archive
Oudenhoorn, een agrarisch dorp, J. Zeelenberg ISBN 90-9001572-8