DASHBOARD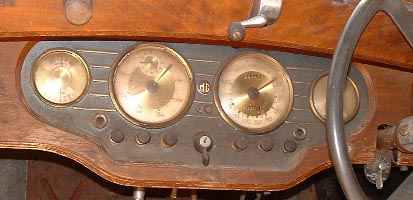 Faciaboard as called in the Service Parts List also has had several alterations during production.
Both designs are seen through all VA models, saloons,tourers and Tickfords.
The dash on the left is the early design up untill chassiSnumber XXX

This is the later type of dash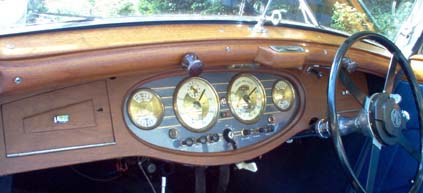 Dashboard of VA 2531 which is a Tickford bodied chassis. Rather special in having two lockable cubby holes.
The dashboard centre panel is made of brass but has in good condition the looks of blued metal. This is achieved by the application of a layer of pure silver which consequently is corroded with an acid. The raised horizontal bars are sanded down so the brass shows up. Finally a coat of clear laquer is applied and lettering to mark the functions of all buttons & knobs. Mosty people these days opt for paint instead of the costly silver proces which can look very nice too.