First production VA, chassis number 0254
Quite accidental some remains of VA 0254 turned up in Holland in April of 2004.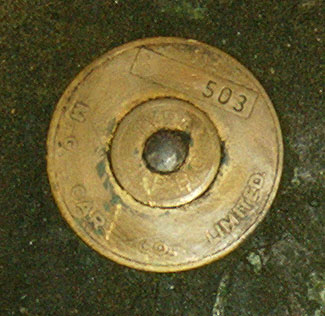 The engine id plate showing TPBG 503
They were purchased as a spare engine for VA 2299 through Hans Compter from Derek Adams from Okehampton and shipped to Holland, where they have been resting in a garden shed for the last 30 years or so.
Quite interesting also is the gearbox which came with TPBG 503. On the photo you will notice that it is actually the shorter Morris/Wolseley type with the shorter mainshaft and no long tailpiece. To overcome this shortage a special adapter is made up to reach the propshaft.
The story has always been that the start of VA production was delayed by logistical production problems, i.e shortage of specific parts. Is this gearbox the proof of that ?