MG TD 23222
OK let's introduce our MG TD, chassis number 23222. EX L: obviously it was destinated for EXport and Left hand drive. Although there are three windscreen wipers fitted (USA spec) the speedometer reads in KM per hour.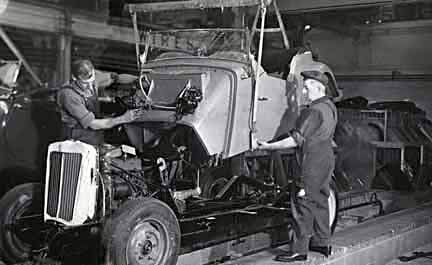 Photo's of MG TD production line, borrowed from the picture site of Steve & Linda.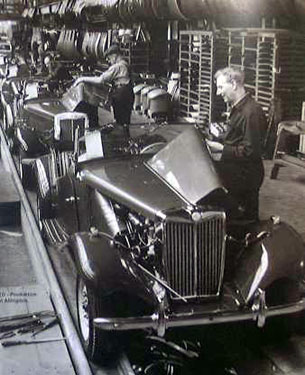 The engine, still fitted, is the later type XPAG TD 2 type with serial number 23722.

Woodland green body with apple green upholstery.
This MG TD came into our life in October 1975 when it was brought to the local Toyota dealer because of failing brakes. Seemingly somebody helpfull had topped up the brake reservoir with engine oil hence the need for a brake rebuild. As the Toyota garage was not to keen on this job and the fact that my wife worked there it was not difficult to make contact with the rightfull owner Arie Voogt. Arie was not really planning to sell the TD, but when I offered him our green 1969 MG B roadster in exchange he quickly changed his mind and a deal could be made. The green but still brakeless TD was ours.
It had obviously been "done up" not so long ago with fresh paint and new wheathergear. Upholstery, electric wiring as well as the engine seemed quite tired and the hub caps missing. After the fitting of NOS wheelcylinders and a new mastercylinder it turned out to be a pleasant little sportscar.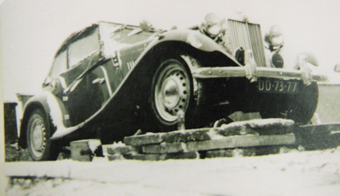 After about a year the big end bearings became a bit too noisy, so the shells were replaced without too much hassle. As no garage was available the job was done outside in the snow !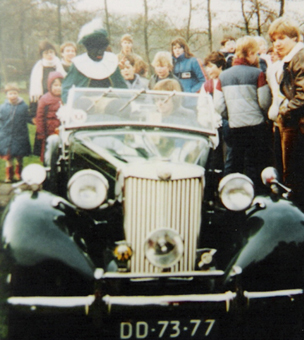 Over the years it saw all sort of mainly local activity for instance transporting Zwarte Piet in December on his yearly arrival from Spain.
It also saw a lot of activity in helping organising activities for local oldtimers.
Around october 1991 it became clear that the mechanical side was in big need of repair. The engine became noisy again, the fuelpump gave the ghost more then once and the wooden frame of the body was quite rotten. Also the metal panelwork had been (badly) repaired some 20 years back. The start of a two year restoration. First thing was the body to come off.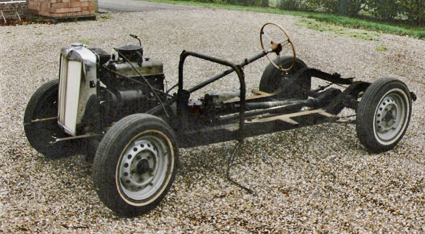 As could be expected the chassis was in good shape with no surprises, bad rust or any accident damage. It was merely a matter of a sandblast and paint job to bring it back to its former glory.
Ofcourse all bearings, suspension bushes, springs, shock absorbers and brake system parts were completely replaced
Apart from the rear bonnet support all woodwork was replaced. Even using new wooden bits from a solid English supplier it took a while before it all went smoothly together.
All panelling was renewed apart from the scuttle top and the doors which could all be repaired.
After the main body was finished the doors were next. They needed new bottem ends welded in. Wings were in great shape and did not show any accident history. A simple strip and paint job !
The engine was really worn out and all moving parts were renewed. The crankshaft could be saved by rechroming and grinding back to standard size.
After that it was a straight forward assembly complemented by a new cotten braided wiring loom.
After a two year rebuild friend Sam Yeo from Singapore was in October 1993 the first in the passanger seat to get the feeling of a "new" MG TD. The outside doorhandles still needed to be fitted though !
But what about the history of this little green machine ?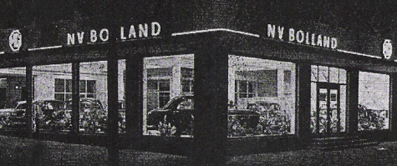 Shortly after we purchased this MG we checked the files of the original MG importer "Molenaar"in Holland. It stated that it was imported in january 1953 and sold through "Bolland" their dealer in The Hague.
(Bolland @ night on the right)
Contempory advert from Bolland
The "Molenar files" had clearly written that the first owner was a Mr. Voltz (with a "T") from the Hague. As no further info from Molenaar was available and Bolland does no longer exist it would become a hard job to find the first owner. Telephone directories of that time did not show anybody named Voltz. A long letter to the Town Hall's public record office revealed that there are no Voltz's registered at all in The Hague, but that a Dietrich Heinrich Volz (without "T") had lived in that town untill June 1959. Then in December 2000 I had the time to start an internet search. It turned out that there were no more then 12 people in Holland with the name Volz; wrote them all a letter and hey presto found a cousin of the first owner! It turned out that Harro, a son of the first owner was living in Sweden. Managed to contact him and we had an opportunity to meet in The Hague when he visited Holland in June 2001 bringing the old family photo albums!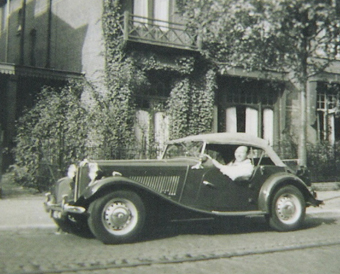 First owner Dick Volz in front of his house @ the Kanaalweg in The Hague around 1954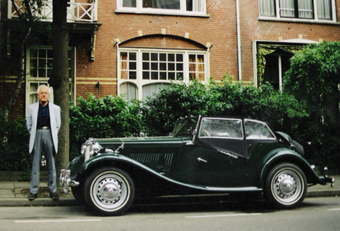 Same venue same MG but now with his son Harro
Dick and the rest of the staff of the "Haags Gemeentemuseum" where he was employed as a graphic designer. Dick was a fanatic mounteneer and travelled a lot to Austria hence the reason why he emigrated there in 1959.
History in brief:
December 1952 TD 23222 built by MG
17-12-1952 TD ready for despatch from Abingdon
20-01-1953 arrival @ importer Molenaar in Holland.
19-03 untill 29-05 1953 time that NX series of registrations was granted so NX 14-40 was applied for by Molenaar, obviously at the moment the TD was sold to MG agent Bolland.
16-06-1953 TD is being sold to MG agent Bolland in The Hague and put in their showroom.
21-09-1953 sold to "first owner" D.H. Volz (not Voltz) from Kanaalweg in The Hague
17-10-1953 NX 14-40 is put in name of D.H. Volz?
20-06-1956 D.H. Volz buys a new MG-A 2 –7-1956 (registered UK 68-67 and still around too!)
02-07-1956 around this date Volz takes delivery of his new MG A and trades his "old" TD in at Bolland.
24-12-1960 untill March 1961 is the period in which the current registration DD 73-77 was granted; obviously when the documents were missing during a change of ownership.
00000 Rob Leqlerc Maastricht? (trader)
08-06-1971 Arie Voogt becomes new owner.
28-10-1975 TD turns up @ Toyota dealer with defective brakes.
31-10-1975 We become owner of TD 23222.
More MG TD reading @ this webpage from Christopher Couper.
<![if !vml]>
<![endif]>
<![if !vml]>
<![endif]>