Racing MG VA's
The MG One and a half Litre was not designed with racing in mind. They were however not slow cars by any means and certainly quicker and with much better roadholding then their contemparies. A number of VA's were entered in hilclimbs & rallies; even by the MG Car Company.
Wing Commander John King, 1947 Edinburgh Rally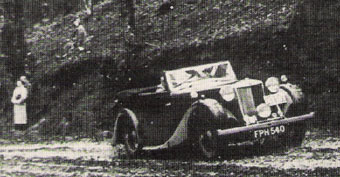 R.A. Carmichael, 1939 Exeter Trial
A major Magic Achievement was made by Mr. W.A. Jacobs during a Motor Cycling Club (MCC) members day at Brooklands race track on the 10th of September 1938. In the Programme of that day his name is entered three times:
1. at 1 p.m. he entered a two lap race with a 32 second handicap. His name was not with the first 3 finishers.
2. at 2 p.m. he entered a one lap race with a 10 second handicap. His name was not with the first 3 finishers.
3. at 3.30 p.m. he entered a one hour speed trial, in which he ran in class O (not exceeding 2000cc. The set target for this race was a distance of 74,68 miles. Jacobs however managed to cover 76,73 miles in the hour and received a "Premier Award" Under the heading "Flying laps and Speeds Recorded" his name is mentioned again at 79,43 mph!
Who exactly was W.A. jacobs? Well I don't know (yet) He was not related to Dick Jacobs as is sometimes suggested.
In a long lost letter to the MG Car Club he explained that the bottem end of his VA engine was balanced, the compression raised slightly, and the cylinderhead copper plated which would have helped in the dispersal of heat and added to the bhp. He claimed he was reaching for 90 miles in the hour when war broke out. Helas no pictures of Jacobs or his VA. Also the MCC could not help.
How about this: lapping at 124 mph /capturing seven International and twenty five American National Records, all at 120 mph or thereabouts/ 12 hours at 120.74 mph. A VA story? Yes, partly true. It was a MG VA rearaxle part that helped EX 179 to be succesfull at these speeds.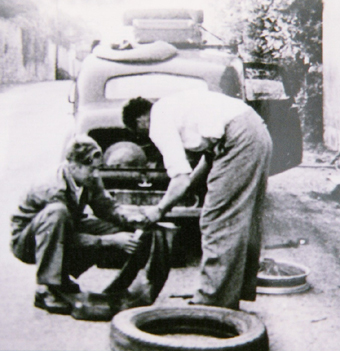 Another VA this time a saloon owned by Hans's Herkuleyns racing mechanic Willy Oosten was used as a service vehicle in the 1948 French Alpine rally by driver Maus Gatsonides (of Gatso speed camera fame). This saloon with chassisnumber 0706 is still alive and being enjoyed by its second owner, Mr Willem Piet from Amsterdam.
Tyre troubles as useal in the Alps
Mr Edgars Trapans took part in a Rally held in Latvia and looking the the trophees he gained some succes (The Sports Car November 1938)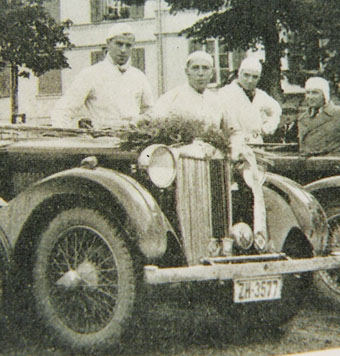 H. Keller, directly connected to the importer for Switserland, Sports Car A.G. of Zurich won his class (up to 2000 cc no less !) in a VA tourer in the 1938 Swiss Endurance Trial (like an abbreviated Alpine Trial). Keller claimed: "the engine temperature never went any higher then 80 degrees" which he said "is helpfull knowing as to the efficiency of the cooling system to those who may go on Alpine journeying."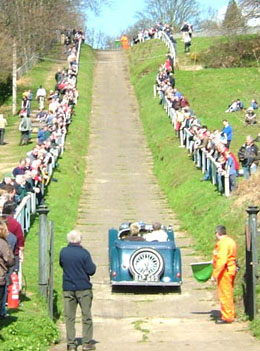 Some modern day hillclimbing at Brooklands testhill in April 2005 by Paul Campbell with his ex police VA tourer
Gordon Wilkins, le Mans 1939
Other speed events:
Driver
Year
Event
No
Picture
Registration
Bodytype
Ainsley, F

1938

Welsh Rally

103

open
Alsagoff, I.A.

1939

RAC Rally

108

saloon
Biddle

1939

Exeter Trial
Carmichael R.A

1939

Exeter Trial
yes
FPH 540
drophead
Clarke, S.C.

1939

Brighton rally

97

yes
DWK 685 *
Tourer
Clarke, S.C.

1939

Royal Scottish AC Rally

104

DWK 685 *
Tourer
Clarke, S.C.

1939

Welsh Rally

74

DWK 685 *
Tourer
Cronk, J.G.

1939

Welsh Rally

76

open
Davis, C.M.

1939

Lands End Trial

265

no
Duckworth, T.S.

1938

RAC Rally

57

open
Fletcher, J

1939

RAC Rally

114

CTE 56
saloon
Forbes Hendy, A

1938

Royal Scottish AC Rally

86

saloon
GriffithWilliams, Mrs.O

1938

Welsh Motor Rally

51

yes
AJB 983
Hall, G.B.

1937

Blackpool Rally
saloon
Harper, Miss C.

1938

Welsh Rally

81

Saloon
Harrald, E.R.

1938

Royal Scottish AC Rally

61

saloon
Hendry, A.F.

1938

RAC Rally

92

saloon
Herrald, E.R.

1939

Brighton Rally RAC Rally
drophead
Hess, Alan/C. Kimber

1938

RAC Rally

114

yes
BBL 333
Jardin Stuart, H

1938

Royal Scottish AC Rally

25

yes
BSF 421
saloon
Jones, J.E.S *

1939

Lands End Trial

253

no
Keller, J.H.

1938

Swiss endurance trial
tourer
Kimber, Cecil

1938

Welsh Motor Rally

71

yes
BBL 333
King, John

1947

Edinburgh Rally

55

yes
GPE 487
tourer
Lones, Clive

1937

Welsh Rally

47

no
KG 8579
saloon
McLeod, Alistair *

1938

Royal Scottish AC Rally

128

yes
BBL 992
Neill

1939

Exeter Trial
saloon
Potter, P.K.

1939

Lands End Trial

298

yes
BBL 992 *
Roper, Lilian

1939

Brighton Rally

119

yes
JT 9093
drophead
Roper, Miss L.M.

1938

Royal Scottish AC Rally

67

JT 9093
Tickford ?
Roper, Miss L.M.

1939

Royel Scottish AC Rally

17

Saloon ?
Stanley Turner, Miss Dorothy

1938

RAC Rally

146

saloon
Wellsteed, Miss D.D.

1939

Welsh Rally

60

saloon
Welstead, R.K.

1937

Welsh Rally

51

no
AJB 983
saloon
Welstead, R.K.

1939

Welsh Rally

79

BRX 352
saloon
Wilkins Gordon
1939
Le Mans
?
yes
BBL 991
tourer
Allistair McLeod = MG Car Club Scottish Centre
J.E.S. Jones = "Jesus" Jones of Creamcracker fame
DWK 685 still exists !
BBL 992 & BBL 333 are works cars