Roof lining and beading
The roof lining and beading form an important part of every SVW saloon car.
The rooflining on my VA saloon was full of holes and partly eaten by little animals so that it needed complete refurbishment. To my regret the beading suffered the same fate and not enough of it could be safed to be re used. The rubber inlay of the beading becomes very brittle and useless but can easily be replaced by new material. Its a different case with the woven outside material.
Interior with new beading on the left
I tried very hard everywhere to lay my hands on some of the original beading but all sources had dried up.
I did find a textile museum which still had the right machinery to reproduce what I wanted to have. Only problem was that the people to operate the machine had died long ago and had not left any notes. Quite disappointed I left the museum leaving a bit of the original beading behind.
To my surprise I received a telephone call two months later that an original weaving machine operator had turned up and that they already had produced a sample piece ! If I could come and have a look.
Although there is a small difference it looks very authentic and once fitted to a saloon you have to be an expert to spot the difference.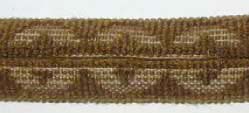 Original beading
Newly made beading
Next problem was that the material to produce the beading has to be special made and coloured as well. They only wanted to do it for a run of at least 120 meter. Luckily Peter ratcliffe of SVW Spares jumped in at that moment to place an order for the full length. I believe he useally has some on stock now.