Special Saloon
Quite a special VA Saloon was chassisnumber 1032, garuanteeplate issued on 24th November 1937
ARX 710 was issued to the MG Car Company on 20th November 1937, but this car was not registered untill the 7th of January 1938.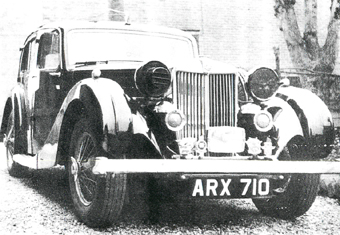 This Saloon had several engine changes:
Original engine : TPBG 1293,First change to TPBG 2036 on 27-7-1938, Second change to TPDG 6720/1 (experimental engine) on 20-5-1939 marked as "Kimbers Car" in the factory ledger, Third change to TPBG 2064 on 1-7-1940
It is sometimes claimed that this saloon was actually EX 159/1 but according the Factory ledger this car only had TPBG 1285 fitted. There is no chassis number issued for this EX car but chassis number wise it is between 1030 and 1031.
Looking at the remark "Kimbers Car" in the factory ledger as well as "Kimbers Car" written on the back of a factory photo of this VA it is safe to asume that Kimber used this saloon for a while. Jean Cook-Kimber claims that it was used for some time by her mother after she divorced from Kimber.
On most photos it is quite clear that Kimbers personal badges were fitted to this VA. Wartime blackout devices on the headlights buth with and a hughe extra lamp on the badgebar as well as windtone horns, anti draught windows and a demisting screen on the windscreen make it a car to be used.
Also rather out of the ordinairy for a VA are the 16 inch wheels shot with wide tyres make me think it was intended to go fast.
If you click on the left picture you can read the full article on the Masteradio available specially for the VA and including an unuseal roof fitted arial featuring an MG logo.
Unnoticed by many is the fact that the rear doors are hinged at the back and not on the B pillar as is useal for a VA saloon.