Toolpage
Each MG was provided by the factory with a well stocked toolkit.
Today most VA's lack the factory supplied tools. In most cases owners try to complete their toolkit by visiting autojumbles or buy through Ebay etc. One of the biggest problems is to get the right tools. "What is the right tool" you may ask. There are several "right" possibilities as MG used several tool suppliers. There are also some definite wrong tools as they look ok but can be easily determined as post war, so not right for the toolkit of a VA.
King Dick, Shelley, Dunlop all supplied tools to MG.
Tools for VA's are supposed to be kept in neat rubber trays. Tourer tools are kept in the scuttle mounted toolbox. Saloon & Tickford tools are kept under a flap in the bootlid.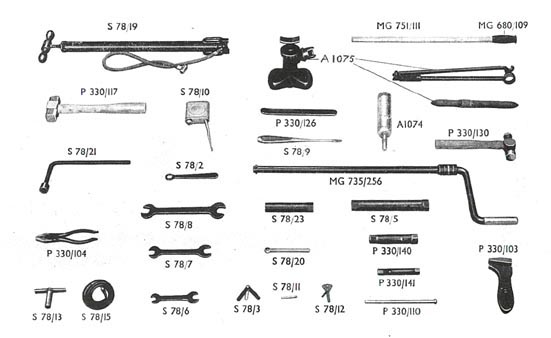 The tools as shown in the original 1937 MG VA Service Parts List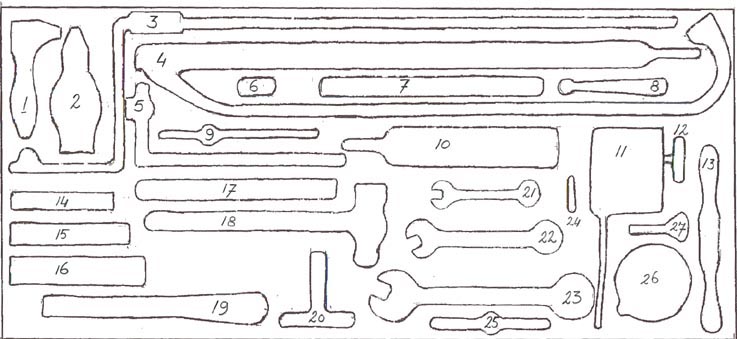 Lay out of the VA Saloon Tool Tray showing which tool goes where
T=TA V=VA W=WA
CARRIED ONLY IN

TOOLTRAY SALOON &

TICKFORD

(see drawing)

MG PART

NUMBER

DESCRIPTION
1
P330/103
ADJUSTABLE SPANNER, USEALLY MARKED "SHELLEY" OR SOMETIMES "KING DICK" AND ÄBINGDON" AND "NO 2" LENGTH: 15 CM or 6 inches
T-V-W
2
P330/104
PLIERS, SOMETIMES MARKED "SHELLEY"

LENGTH: 16,3 CM WIDTH: 4,8 CM

T-V-W
3
MG735/256
STARTING HANDLE. USEALLY HAS A BRASS SLEEVE WHERE YOU PUT YOUR HAND. WELDED ON BUSH FOR SUPPORT IN FRONT BUMPER. OVERALL LENGTH 27 ½ INCH
4
S78/19
TYRE PUMP. EARLY TYPE HAS 2 CASTED FOOTRESTS MARKED "SHELLEY'. LATER TYPE HAS ONE WIRE TYPE FOOTREST. COLOUR OF PUMP IS BLACK. HOSE HAS TYPICAL ANGLED CONNECTION TO FOOT OF PUMP. PUMP DIAMETER: 3,5 CM. LENGTH OF HOSE, MEASURED INCL CLAMPS = 685MM OVERALL LENGTH OF PUMP INCL FOOTRESTS BUT EXCL PISTONROD: 54 CM. NIPPLE EITHER BRASS AND MARKED "SHELLEY" AND "PATENTED" OR ZAMAC AND MARKED: "PATENT NO 61930".
V-W
5
S78/21
SPANNER FOR HEADNUTS. THIS IS A 7/16 HEXAGON BAR WHICH IS BEND AT 90 DEGREES WITHOUT A SOCKET. BAR MEASURES 9,5 X 22,5 CM (MIGHT BE 4 ¼ X 9 ¼ INCH,BUT THIS DEPENDS) THE SOCKET IS A SEPERATE PART WHICH HAS ITS OWN PLACE IN THE TRAY. ON THE PHOTO IN THE PARTSCATALOGUE THE TWO ARE FITTED TOGETHER.
V-W
6
PLACE FOR HEADNUT SOCKET, ONE END HEXAGON HOLE 7/16 OTHER END 5/16 WW (15MM)

KING DICK SUPPLIED THOSE, 24,5MM DIAM AND 22,3 MM HIGH. ONLY MARKED "5/16" + KNURLED BAND.

7
P330/126
SPOON TYRE LEVERS. USEALLY MARKED "MADE IN ENGLAND" AND THEN "DUNLOP", LENGTH: EACH 22,5 CM. NOTE: SOME LEVERS HAVE "MADE IN ENGLAND" BELOW "DUNLOP". THESE ARE POSTWAR!
T-V-W
8
S78/2
TAPPET SPANNER. NUT SIZE: ¼ WW OVERALL LENGTH: 14,7 CM
T-V-W
9
P330/110
TOMMY BAR 17 CM LONG
T-V-W
10
A1074
GREASE GUN, MARKED "ENOTS" MADE OF BRASS. AFTER VA 1794 THE PARTNO CHANGED TO A1121, MARKED "TECALEMITE". HAS BRASS SREWCAP. OVERALL LENGTH 23 CM. DIAM 38 MM. LATE VA'S MAY HAVE AN ALLTOGETHER DIFFERENT GREASE GUN.
11
S78/10
OILCAN. SHOULD HAVE BRASS CAP AT THE END OF THE SPROUT, OVERALL HEIGHT INCL SPROUT 7 5/8, WIDE 2 ¾, DEPTH 7/8 INCH.
V-W
12
S78/3
TAPPET FEELER GAUGE SIZE? (015 AND 010)
T-V-W
13
DETACHABLE WOODEN PUMPHANDLE, LENGTH: 16,3 CM PAINTED BLACK
14
P330/141
BOX SPANNER 3/16 X ¼ LENGTH: 10,2 CM SOMETIMES MARKED: "KING DICK"
T-V-W
15
P330/140
BOX SPANNER 5/16 X 3/8 LENGTH: 12 CM SOMETIMES MARKED "KING DICK"
T-V-W
16
S78/23
BOX SPANNER FOR SPARKPLUGS SOMETIMES MARKED "KING DICK" LENGTH: 15,2 CM
V-W
17
S78/5
BOX SPANNER 7/16 X ½ LENGTH: 19 CM SOMETIMES MARKED: "KING DICK "
T-V-W
18
P330/130
HAMMER LENGTH: 23 CM ? WIDTH: 9,5 CM ? MARKED: "SHELLEY"
T-V-W
19
S78/9
SCREWDRIVER, USEALLY MARKED 'SHELLEY' AND "BRITISH MADE" LENGTH 25 CM
T-V-W
20
S78/13
WRENCH FOR LOCKHEED BLEEDERSCREW 5 X 8 CM ?
T-V-W
21
S78/6
DOUBLE OPEN ENDED SPANNER 3/16 X ¼ (11,8 CM)

THESE SPANNERS ARE CHEAP STAMPINGS, MADE OUT OF FLAT PLATE. THE SPACE FOR THE NUT SHOULD BE WITHOUT HEXAGON FORM AS THOSE ARE POST WAR!

T-V-W
22
S78/7
DOUBLE OPEN ENDED SPANNER 5/16 X 3/8 (16,4 CM)
T-V-W
23
S78/8
DOUBLE OPEN ENDED SPANNER 7/16 X ½ (22,5 CM)
T-V-W
24
S78/11
TYRE VALVE TOOL, BRASS LENGTH: ?
T-V-W
25
S78/20
TYRE PRESSURE GAUGE APPROX. 10,7 CM MARKED "DUNLOP".
V-W
26
S78/15
RUBBER TUBE AND BLEEDING NIPPLE FOR LOCKHEED SYSTEM (IN ROUND TIN)
T-V-W
27
S78/12
DISTRIBUTOR SCREWDRIVER ONLY MARKED "LUCAS" INCL. FEELER GAUGE
T-V-W
OTHER TOOLS SUPPLIED WITH A SALOON & TICKFORD BUT NOT ACCOMODATED IN RUBBER TRAY:
MG PART NUMBER:
DESCRIPTION:
P330/117
SQUARE HEADED COPPER HAMMER, FITTED IN 2 CLIPS. SIZE: ?
T-V-W
A1075
JACK (MARK "SHELLY") FITTED IN "RETAINER" IN SALOON/TICKFORD
T-V
NO SEPARATE PARTSNUMBER
JACK METAL HANDLE IN 2 PIECES, FITTED IN 1 LARGE & 1 SMALL CLIP
S44/114
RETAINER FOR MANUAL JACK
MG 751/111 (A)
A. HANDLEBAR FOR HYDRAULIC "JACKALL" SYSTEM (OPTIONAL FROM CHASSISNO………, FITTED IN 2 CLIPS OR B. MANUAL JACK WOODEN HANDLE
On a VA tourer the situation is different, as it has two tooltrays like the MG TA (Partsnumbers for trays TA & VA are similar: S68/23 & S68/24 ) and the following things are according the Service Parts List not fitted in the tray but with clips:
Manual jack 1 clip, manual jack metal handle 1 large & 1 small clip, hydraulic jack or manual jack wooden handle 2 clips, copper hammer 2 clips, tyre pump 2 large clips& 1 small clip, tyre pump handle 1 clip, starting handle 2 large clips & 1 small clip, lockheed wrench 1 clip, grease gun 3 clips
This is how a well filled set of Tourer tooltrays looks:
Some tools for a tourer will not fit the trays nor are clips mentioned in the Service Parts List.
As it is unlikely that these "loose" tools were meant to be wandering around the car, it can be assumed that these tools which were supplied according the Service Parts List to a tourer in fact were not supplied at all and that the TA tool (partnumber 2368.being a flat steel tool instead of the casted/pressed post war one)was supplied instead for the head nut spanner (same size nut TA, TB & VA). The 3 box spanners fit inside each other, so one space in the Tourer Tool Tray is sufficient; a box spanner for the plugs not seperately supplied with a tourer, as one of the other box spanners fits the spark plugs.

A well stocked Saloon or Tickford tray

Detailed Photos of various tools:

The right Shelley jack
A rare site ! A so called jack retainer (partno. S44/114) including the genuine jack operating handle and wooden bar, all in its correct clips (photo John G. Bulcken IV). Seen on VA saloons (1411&1022)

Next picture shows a Lockheed bleeding wrench (S78/13) including a bleeding drain tin including its contents: a rubber tube and brass nipple. The tin is incorrect though as it is definately post war.

Seemingly correct tin, rarely seen, not exactly dated but pre war, known as a Pink Tin.
Also a correct pre war tin, not exactly dated, not so rare as the pink tin.
A very rusty bleeding tin, completely yellow and black text. Possibly pre war.

Also probably (late) pre war and correct for late VA's & WA's. Unlike the tins above this one is made of aluminium and coloured white. The nipple inside is galvanised steel instead of brass
This is what a correct bleeding wrench looks like
Correct pre war OE spanners with smooth openings

post war have hexagonal ends like this

Pliers marked SHELLEY
This is the KING DICK and 5/16 marked head nut socket

This is the same socket but now in combination with the 7/16 hexagon operating bar (saloons & Tickfords)
Mind you the headnut spanner for a tourer looks different !!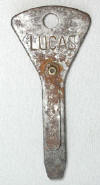 The correct pre war LUCAS Tool combining a screwdriver and feeler gauge to service the contact breaker points
Correct pre war tappet spanner with a 1/4 hex for the
tappet lock nut

A very nice set of KING DICK marked box spanners

A very correct but oh so rare SHELLEY marked hammer

The TECALEMITE Greasgun as supplied from VA 1794

VA's before chassis number 1794 had a similar greasegun as above but suitable for different grease nipples, and marked ENOTS on the back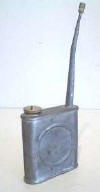 A good view of the oil can, not including its brass filler & screw cap
An early adjustable wrench, admire the rounder tail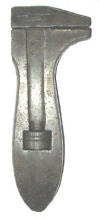 This adjustable wrench has a sharper tail and other small differences dating it later and possibly even post war

An early tyre lever is marked like this with the "Made in England" written before it instead of under the word DUNLOP

DUNLOP tyre valve tool
Do you have any corrections or good quality pictures to include ? Just let me know !
More to follow!