Woodies
It is quite unlikely that any MG VA's were actually built up from new as woodie estates.
Most VA Woodies have as far as we know been built up during the early years of WW2 in order to get a higher Petrol Allowance. Through the conversion from a Privat car to a Commercial car more petrol could be had.
The Gardner Woodie
A good example is the Major Goldie Gardner VA "Utility" created in 1942. Although quite ugly in appearance it must have been extremely usefull with its folding rear bench, creating a
huge luggage space. Car was created on a VA Tourer by University Motors, the famous London MG dealer. It seems that though massive in appearance its weight was fairly low. "The Motor" magazine made an article about it on May 13th 1942 and declared it "Safety Vast". The cellulose finish was brown, the wooden bits being varnished. "The Motor" predicted a great future for estate cars after the war. And right they were!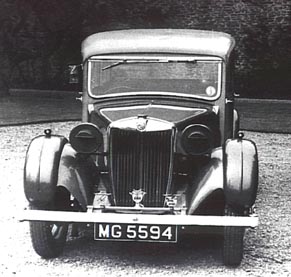 photo left and top: National Motor Museum
photo above and below: The Motor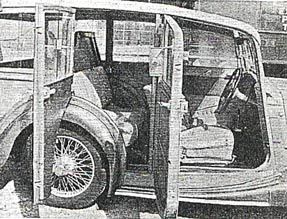 This woodie on the left was created around 1953 by coachbuilder Caffyns of Sandgate after a tree fell on top of this VA saloon. Photo: Safety Fast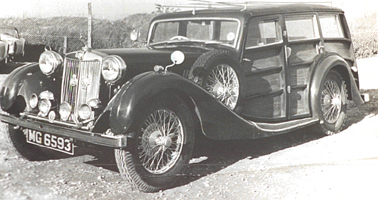 Another Woodie was pictured by Martin Brent at the Abingdon MG factory.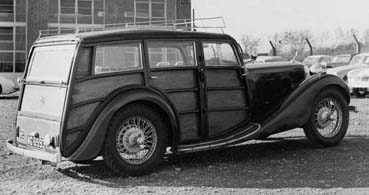 Looking at the rows of MG A's on the background I guess its late fifties, early sixties. This estate was obviously based on a saloon. Ity looks like a real workhorse with its roofrack and oversized tyres.
Although it is believed the Gardner Woodie survived for a long time none are known to exist right now.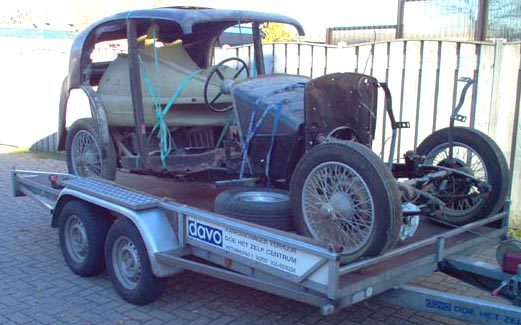 At this moment a VA saloon which is beyond its stage where it can restored as a Saloon is being converted again to a Woodie.
As soon as there is any progress on this project we will show you here !
Have a look at the Woodies Web