The Jerrycan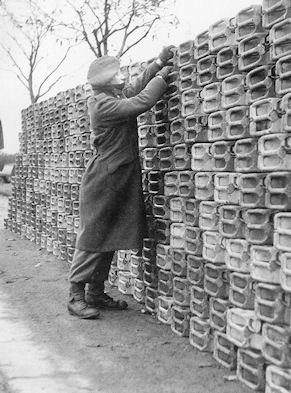 The "Jerrycan" as we know it was in fact developed by the Germans before WW2.
As the American nickname for Germans was "Jerry" this unique fuel can quickly became the Jerrycan amongst allied troops.
The reason behind the development of this can was purely military. The way petrol was carried around battlefields in large reservoirs on trucks and tankers was far to risky under war conditions.
It was thought that carrying the fuel in smaller units would be much safer.
The British already had their two gallon cans and the larger "flimsies" usually carried by the two in wooden crates but they were not really suitable for reuse.
But in Germany the birth of the new strong and solid 20 litre can was a success. Of course they did not call this new container "Jerry can" but "Kanister" or "Kraftstoffbehalter."
The new can was developed with three handlebars to facilitate carrying by one or two man and if required could easily be passed on along a que of people.
Apart from a strong and leak free filler cap mechanism they were also square and strong enough to be stacked safely.
A particular USA version employed a screw cap for some time but they were prone to leaking.
The early American made cans were usually made out of one piece whereas the German and English made cans were made out of two halves welded together.
So funny enough according the allied forces there was only one proper fuel can and that was the German can.
The German can was copied/produced in large quantities by USA factories before WW2
During the invasion in Normandy all vehicles, jeeps, beeps, trucks and tanks were carrying as many filled cans as they could to increase their travelling distance as far as possible
When it appeared that not enough jerrycans were available to guarantee fuel supplies of the rapidly advancing Red Ball Express several thousands of extra jerrycans were produced during 1944
By the end of WW2 the Americans had produced more then 21 million jerrycans many of which were still in use long after hostilities had ended.
Also outside army use the jerrycan is a well known and is in fact still being used on a wide scale worldwide.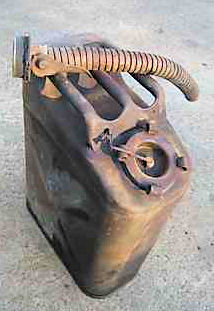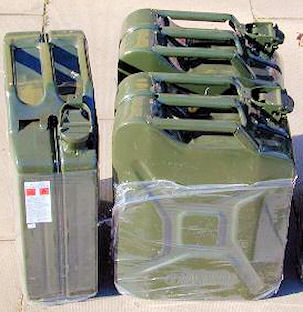 On the left a typical "one piece" earl American made can with screw top.
On the right the now still common and widely used can with a seam in the middle and the more leakfree flip top cap
text and photos: Klaas Bos