<![if !vml]>
<![endif]>
Canned Petrol, a survey about petrol cans in Holland & Europe



a collection of British Cans
some general can history
Have a look at an article I wrote for the USA magazine "Check the Oil"
On the left a survey of known (mainly British) can faces
Click here to go to the seperate page on British can colours
Please scroll down to see some cans from my collection
Below some of the Dutch 10 Ltr cans in my collection:
Autoline/Shell
Most of these cans were produced by "Van Leer" who was taken over by Greif in 2001. Read also the history of founder Bernard van Leer.

Autoline can from the Koninklijke Nederlandse Petroleum Maatschappij which merged with Shell in 1907.
Colour: originally green with, see enamel sign on the right showing a green can. My can was repainted in red with a yellow handle (Shell period), Undated as far as I can see but well before 1925 when the Shell name and logo were introduced in Holland.

Frontface: diagonal embossed: AUTOLINE

Van Leer logo stamped in a corner of the can's top


Top: embossed crownlogo and in a corner a logo from Van Leer, the can manufacturer
On the bottem are in each corner extra feet soldered on.
Brass cap: Van Leers Sluiting Patent aangevraagd
Width: 25,3 cm Depth: 15,3 cm Heigth: 30 cm
Autoline was also marketed through A.N.W.B. which cans showed paper stickers on the sides of the cans in a 1913 advert.
Note the difference in cap with the Autoline can above: the Van Leer cap is 1920's. Plain caps are earlier. Also is the top face of the can recessed as seen on other early cans.
======= Wanted: a two litre Autoline can =======

A typical 1920's Autoline can originally green, which was later repainted red with yellow handle under the Shell regime.

This Van Leers designed can carries a VB sign which means it was produced by the Verenigde Blikfabrieken, and carries a Van Leers cap.
Another 10 Ltr Shell can:
No date marks can be found but made after 1925 when the Shell name became commen as a trading name.

Front and rear faces embossed horizontally: "Shell"

Topface: embossed Shell logo
Bottem: marked "E 1" Colour: red Width: 25,3 cm Depth: 15,3 cm Height: 30 cm
Brass cap: stamped "shell" and "van leers sluiting ned octrooi 6764"

A typical example of a late "1920's" Shell can with paper labels on both sides and a yellow handle.
And another 10 Ltr Shell can.

Text on the frontface is "Speciaal product" and on the side face are the remains of a paper label saying "Shell". These "Speciaal Product" cans could contain diesel; sometimes the label "gasoline" as on the right was fitted.

Note that the bottem has the same pattern as the Autoline can from above but the extra feet have been left of.
A hole in the topface was mended by soldering on a 1 cent piece featuring Queen Wilhelmina who abdicated in 1948.
A blue version of the10 Ltr Shell can stencilled "gasoline". Gasoline is probably what we now call "diesel"

Apart from Autoline, Shell sold Sumatrine (heavier), and Carburine (heaviest, later sold as parrafin for tractors), Aeroline (petrol for planes) and Gasoline (diesel)
A yellow variety ( a la Dynamin for highly compressed engines)
In England a 10 ltr Shell can has been located which is marked down the bottem panel for Shell Mex London June 1929. Origins ?

Picture on the right showing the various Van Leer caps. Some have the make of fuel in the centre or are totally blank. Patent was applied for on April 9th 1919 and granted Januari 13th 1922 and expired 13th january 1940. On the left a `strange`Van Leers type Shell cap ?
Standard/APC/ESSO
Some 10 ltr cans made for APC either by the Standard Drum and Barrel Comp or alternatively the Rotterdam APC can factory:
Automaat: APC sold their petrol with the brand name "Motorspirit" through their trading company "Automaat"

Original colour: red.

Only the topface is marked embossed: AUTOMAAT ROTTERDAM ZEER ONTVLAMBAAR 1924 (1924 diagonal under the handle)

The bottem has an extra cross soldered to it creating extra legs to stand on.
Width: 23 cm Depth: 18,8 cm Height: 29 cm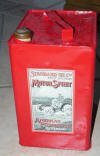 Originally this can has looked like the photo on the right.
"De Automaat" had an extensive network of retailers all over Holland keeping stock of 10 Ltr cans of petrol. Payment of the petrol was through a voucher system and monthly invoicing.

A voucher for "Motor Spirit"
brandname "Esso"
A 1929 dated Esso branded APC 10 Litre can with brass cap. Note the triangular sticker on top warning that this petrol contained lead. Esso logo applied as a transfer.Text on top: "deze benzine bevat lood en mag uitsluitend als motorbrandstof worden gebruikt en niet voor andere doeleinden vermijdt morsen".

A 4 years younger can, slightly different in appearance. Topface is marked embossed: APC DEN HAAG ZEER

ONTVLAMBAAR 1933. Unmarked round brass cap with square bit on top.
Original colour: silver
Now restored with Esso painted on in blue on a white background as seen on a 1931 photograph. Originally the Esso logo is believed to have been a paper sticker or a transfer.
Width: 23 cm Depth: 18,8 cm Height: 29,2 cm
Similar Esso cans in use during a motorcycle rally
Another APC Den Haag 10 Litre can dated 1932 in its original livery still featuring its rare paper "Standard" sticker



Caps on APC cans could be either bronze or zamac.

A 1930 A.P.C. Den Haag can with no provision to stick a label on as in the above Esso and Standard cans just as with the above much earlier Automaat can but with a non recessed "modern" top panel. Still marked as highly inflammable. Petrol but which brand ?

A 1929 A.P.C. oil can, not petrol. Paper label for EZ oil "Extra Zwaar" ( extra heavy duty ) mind the difference in the cap opening to a petrol can.
1934-1929-1930 (legged, not paper label)

Toneline although a make from French origin was also selling petrol in Holland up untill 1927 when they were taken over by A.P.C.
Texaco Holland
Can dated June 1924 designed by Van Leer for the Dutch Texaco Company, but actually produced by Numans Blikfabriek Amsterdam (NBA). As Texaco did not start selling petrol in Holland before 1921 these cans are quite rare. Originally these cans had paper stickers on the front & rear face.
Purfina Nederland
Some Belgium cans:
Texaco:


The Texaco can is stamped 31 on the frontface, possibly the year the can was made. Probably produced by Van Leer.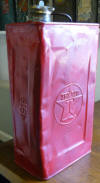 Narrow type Texaco can


A collection of Continental Petroleum Comp, Texaco caps.


ABBL & ABL stands for Armé Belgique/Belgisch leger (Belgian Army Cans)



J&F De Keyser stood together with Ferd. Demets at the cradle of the Belgian Benzin Company in 1907/08. This petrolcan can be dated around that period. From then on De Keyser and Demets stopped trading petrol under their own brand. De Keyser however continued selling oil under his own name even in the late thirties. Oil can on the right is dated 1924






Sign dated 1927
BBC stood for Belgian Benzine Comp, a daughter company of Royal Dutch Petr Comp, hence the Crown logo. Original colour red, later cans are BSC (Belgian Shell Comp) Paper label is replika.

A collection of Sinco/Sinclair cans

Purfina 10 Ltr petrol can dated 1930

Two cans from A.P.C. for Motocarline & Essence pour Aviation, both with APC embossed at both sides.

Transport crate
Gezocht/wanted een Motocarline blik van Mottay & Pissart


Three variations in UPC - Sinco - Sinclair caps Spark benzine


Deco Anvers left and Cities Services Gazoline n the right

Who can tell more about the make Carburine in Belgium ?

Atlantic Gazoline
Belgium Carburine Company ?
Luxemburg:

Société Luxembourgeoise des Carburants (later Shell)
French cans:
A wooden transport crate with Automobiline cans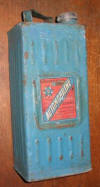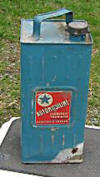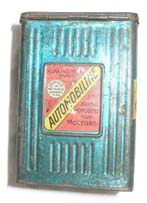 Four variations in "Automobiline" cans on the left. The most left can with the round handle is the oldest type.
A very small 8 cm high container with hinged top lid looking like an Automobiline can on the right but its function is so far unknown. Any suggestions please let me know. Suggested as being a cigarette box.
A two litre Automobiline can also with a round handle and a label similar to the above left can. All round handles were originally placed as with the small can but later modified and turned 90 degrees for convenience.

Wanted : a 10 litre Automobiline can as in these pictures.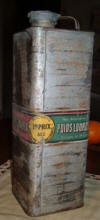 A Moto Naphta can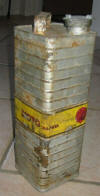 Later Moto Naphta was taken over by Shell but
they kept using the old cans but with a new label.
A rather early 5 litre can from Stelline.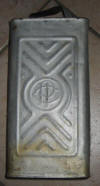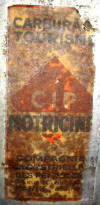 Two different Motricine cans, CIP.
The redish one is dated 1936.
Two different labelled BP cans on the right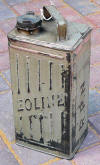 Eoline petrol can from R.P.N
Another Motricine can showing a special tool for opening & closing the cap.


Vacuum Oil Comp, essence
Gazo Moteur


Motoforge
Nobex Super Carburant 10 litres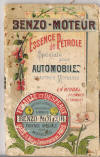 Far left is a guide telling you where you can obtain Benzo Moteur petrol dated April 1899
Naphtacycle from Cie Generale des Petroles, Marseille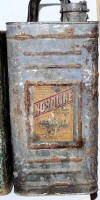 5 liter Novoline petrol can. Societe Francaise de Carburants, Paris
Here we have a very old petrol "Auto Casino" can sold by the famous grocery stores "Société des Magasins du Casino" and believed to be from the very start of the 20th century. Looking at the pattern of the can it looks to be a relabelled Motricine product as shown on the right.
See more on French cans here (click)
Austrian cans:

Shell Auto Benzin, Floridsdorfer Mineraloelfabrik
Italian cans:
Italians fuel cans of 20 ltr capacity. Baku was supplying fuels from Russion oil wells.
The left can is marked 1930 in the bottem.


AGIP benzina

Shell Dynamin dated 1931
Germany:
A quite large galvanised container for DAPOLIN petrol from the Deutsch-Amerikanische Petroleum-Gesellschaft (D.A.P.G.)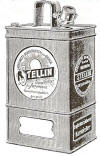 Two square petrol cans from STELLIN on the right, but which Stellin ? Vereinigte benzinfabriken Altona or Bremen which used a logo equal to the French Stelline, or Benzinwerke Rhenania A.G. which were located in Dusseldorf, Hamburg, Berlin, Leipzig, Regensburg and Ludwigshafen. This last Stellin brand was owned by Royal Dutch Shell. They also sold Kraftalin (petrol for trucks) and Dynamin. So who is who ?
A 5 litre Dapolin can



Bremer Chem. Fabrik.
There must be "benzin kanisters" from Petroleum Raffinerie August Korff somewhere ?
Danmark: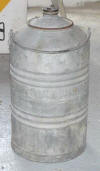 Quite similar to the above German can is this can from Danmark. A brass cap as well as the BP logo embossed and the number 238. Could this be February 1938 ?

Egyptian Cans:
Benzine can from the Societe Egyptian de Petrole.
A BP Motor Spirit petrol funnel (GB):
see other petrol can tools see more funnels
Mystery Can Section:
Can anybody shed some light on these mystery cans please ?
A plain can but with the CROWN logo of the Royal Dutch Petr. Comp. in an unusual place, original colour yellow.
Any solutions please to: hauntedsaloon@hotmail.com wil be rewarded with a pint of Guinnes.
| | |
| --- | --- |
| | Simon Crump creates wonderfull guitars from unwanted petrol cans. |
Go to my other page about the major fuel companies in Holland
Go to my special page about parrafine cans.
Read the history of the Jerrycan
See the pages of Puma Period Pumps
The Vintage Petrolpump Company
Phil Easdown's Vintage Garage site
Auke Visser´s Esso Belgium Tanker's site
US Gas Pumps & Parts Nederland
Roadside advertisements on walls.
Also have a look at Ian Byrns Petrol and Oil Road Maps of Europe.
with a handy index of all fuel makes
Many thanks to Trevor & Mike, Philip & Mathieu who supplied much of the info on this page and supplied some of the pictures.
More to follow when time permits.