Kimber's last MG ?
Although thought to be lost this magnificent MG VA saloon resurfaced totally unexpected during an MG meeting of the MG Car Club's SVW Register in July of 1996.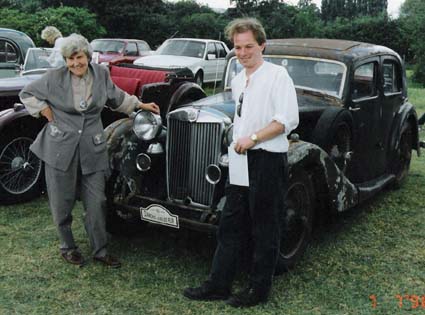 The owner, who had been on the trial of this car for many years, was totally unaware of its provenance.
He did not realise that CBL 192 was Cecil Kimbers company car during his last years at MG's.
Another coincidence during this rediscovery was the fact that Jean, Kimbers daughter, also turned up at this meeting and was carying the famous family photobooks, confirming its history.
(picture on he left showing Jean Kimber-Cook together with ex dad's VA and proud new owner Malcolm)
Picture on the right was taken in the summer of 1940 at Bridge Cottage.
Although this MG VA started live as a light grey car it has been repainted in black at some stage. Jean Kimber remembers her fathers last MG as a black saloon.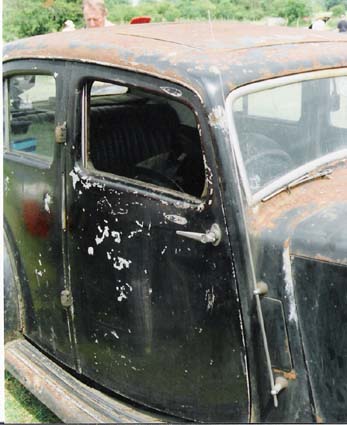 It is not unlikely that Kimber kept this car as his daily transport even after his dismissel by Miles Thomas in November 1941.
According the cars registration index card which has surived at The Kithead Trust CBL 192 was registered by the MG Car Company on the 20th of January 1940 untill December 15th 1942, barely two weeks after Kimber started to work at Specialloid pistons. It is historically not correct but so easy to conclude that they let Kimber have the VA after his dismissal and that Specialloid took it on as part of the deal with Kimber. Worth investigating further !!
"If he had been able to get more petrol coupons for his MG he would not have been involved in this train crash which made an end to his life on Sunday February 4th 1945" according Jean.
According the index card it changed hands again on the 27th of July that year, 5 months after the train crash.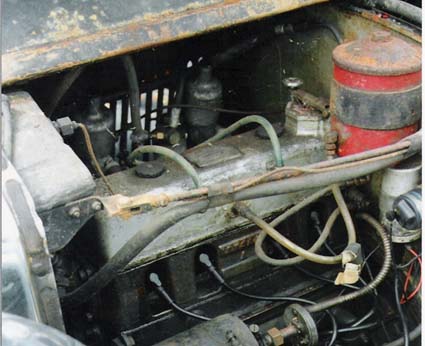 CBL 192 is the only known VA with a light alloy rocker cover and octagonal oil filler cap.
Other VA saloons used by Kimber:
DJO 117 (chassis 0253) early prototype
BBL 333 (chassis 1451 "The Blue Saloon")
ARX 710 have a look @ its story